Advice from a marketing expert for your campus, organization, or constituent group.
All rise for the mighty social media marketer—heavy is the head that wears all those "many hats."
Social media marketing is a hard job. Copy, design, video production, customer service, and a personality trait of "being very online" have all been wrapped up into the social media expert's job description. Social media professionals still bemoan the lack of investment in robust, dedicated social teams, despite the importance of social media in today's brand and business building.
So let's say you're a team of one, or that this is a small part of your job duties. How do you break through the crowded social media landscape and connect with your audiences? And how do you get it all done in record time?
Creating an effective social media strategy can be challenging, especially with constantly evolving trends and algorithms. But with a few basic practices, you can build a social media strategy that will actually work for your business or organization.
Define your target audience: Your target audience influences everything from the kind of content you create to the platforms you choose. Start by identifying the demographics, interests and behaviors of the people you want to reach. There are a myriad of tools and exercises you can use to sketch out a customer profile — a quick Google search will turn up a template or service to get you started. These insights will guide you to where and what you should be posting.
Choose the right platform: Given the radical differences between social media platforms, the all-encompassing term "social media strategy" might be misleading. Each platform requires a very different approach. Otherwise, you risk alienating audiences or missing them altogether.For example, if your target audience is primarily Gen Z or Millennials, you should focus on platforms like Instagram or TikTok. But if you're looking for business-to-business (B2B) audiences or recruitment, you should head to LinkedIn. Consider both the kinds of content you'll be posting and the audiences you're trying to reach, and make your platform choices accordingly.
Create the right content: What does it even mean to create the "right" content? The golden rule is to remember that social media platforms today are mostly for entertainment. Therefore, it's prudent to center most of your content around providing value, rather than solely describing your business's achievements or offerings. Is the content funny, inspiring, or moving in some way? Is it informative? Is it inviting engagement? Does it improve someone's experience? The majority of your content should entertain and connect, and the minority should sell to or ask something of your audience.Another tip for creating the "right content" is that social media platforms do care about the quality and format of your content. Certain platforms' algorithms may favor video content over static posts, or posts that keep the viewer on the platform rather than posts that link out to external sites. Do some research about your chosen platforms to make sure you have a baseline on what will perform well and what is likely to flop.

Some of the best content creation for your business is outsourced—leveraging user-generated content (UGC) is a powerful tool for building brand trust and authenticity. Find ways to incentivize or encourage your audience to share their experiences with your products or services, and showcase them on your social media platforms. Take, for instance, Chewy and how it generates UGC by inviting pet parents to submit photos of their furry friends in just-arrived Chewy boxes. It's a perfect example of something that is rewarding for the audience (cute pics of animals) while also increasing brand presence (branded Chewy boxes). This practice of soliciting and using UGC not only adds credibility to your brand, but also creates a sense of community among your followers.
Don't sweat the trends: Not sure you have time to research and create bespoke content to keep up with trends? Don't! A good social media strategy doesn't need to insert itself into every trend dialogue. If you find a trend that is low-lift and contributes something to the discourse, by all means, jump on it. But plenty of accounts find success by leveraging evergreen content or eschewing popular trends completely in favor of their own niche and lovely brand of humor. Looking at you, @milwaukeepubliclibrary.Businesses and corporations bet big when they weigh in on social media trends—high risk, high reward. But if your business wants to add to the trend dialogue, make sure that you haven't missed the wave. Posting after a trend has died out will make your brand or business look irrelevant and out of touch.
Consistency is key: Building a strong social media presence takes time and diligence. Start by creating a content calendar and post regularly. Begin with something you can maintain, whether that's three times a day or once a month (though a few times a week is best for maintaining engagement, if you can swing it). And if you have a large amount of evergreen content available to you, scheduling tools can help you plan your posts and ensure they're published at the optimal time.You can apply consistency to your content creation process as well. When you're a small team with limited resources, find a couple of content formats that work and stick to them. Templatizing will allow you to move faster when it comes to creating content, and it will also make it easier to implement AI tools for everything from image creation to video editing.
Monitor and respond to comments: Social media is a two-way conversation, and you need to actively monitor and respond to comments and messages from your followers. This responsiveness shows that you value their opinion, and demonstrates to those viewing the comments that you are committed to providing an all-around excellent customer experience. It also builds trust and relationships with your followers and establishes a loyal customer base. And, as a bonus, the more you comment, the more engagement you drive in the eyes of the algorithm, which could improve your post's performance.
Measure and learn: Even if you're only grabbing the simplest of metrics, measure the performance of your posts on a regular basis. Impressions, interactions, shares, and bookmarks can tell you a great deal about what type of content your followers prefer, as well as what kind of content the algorithms are rewarding. And even if it doesn't yield an "aha moment" right away, insights over the long haul might surprise you.
There are plenty of social media tools out there to help build out a robust measuring platform. But if you have a limited budget, the in-app metrics are enough to get the job done — so long as you're checking in regularly before data disappears.
Good luck out there! Social media is a powerful tool for businesses to reach out to their target audiences and build brand awareness. But first you need a solid plan in place to create, post, moderate, and measure. By following the above strategies, you can reach new audiences and build a loyal, committed community right from your phone. See you on the internet!
About the author: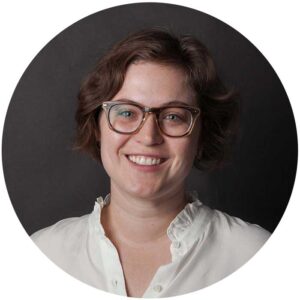 Maggie Ward is the Director of Marketing Communications at VSA Partners, a creative and strategy agency that designs for a better human experience. Prior to joining VSA Partners, Maggie was the Director of Marketing at non-alcoholic cocktail company Curious Elixirs. She has also worked as a content creator and writer in the design, architecture, advertising, and consumer publishing sectors. Maggie is a graduate of Lawrence University, and currently lives in the Chicagoland area.