Social media has played a role in my life since my first AOL username… one you will have to ask me for in person. For me, social media has been a way of documenting my life and looking back at the moments that have made me who I am—both good and bad. Instagram came out while I was in college. I played with the filters like crazy. Those were what I consider the "Instagram Golden Days," a time when you would search for murals in a city you were visiting or capture food that was interesting.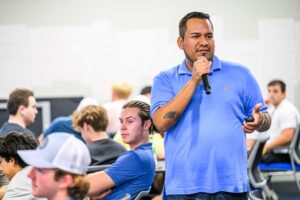 This fall marks ten years since I started working in fraternity/sorority life. For seven of those years, I worked as a campus-based professional, and I am currently in my third year working at a fraternity headquarters. As I consider the changing landscape of our profession and the role of social media in the change, I have young professional Guillermo in mind and the advice I would have given him when it came to social media and how I presented myself online.
Curate a Life Outside of Work
Every post you share does not have to be about your job. We spend countless hours at work and then go above and beyond and spend even more time at work. I tried early on to separate my work from my personal life. In graduate school, I forced myself to detach myself from work, find friends who were not in my program, go out there, and be uncomfortable to avoid constantly talking in fraternity/sorority acronyms. When I was a campus-based professional, I thought the more I was at work, the better I was doing my job. I would make posts on how late or how many hours I worked at Panhellenic recruitment or a Step Show. I was not taking care of myself and instead filling what free time I had by volunteering for various organizations and then posting about it.
Stop Comparing Posts to Your Personal Life
Social media is a place where I go to get inspired, and comparison is the thief of joy and creativity. I have learned to stop comparing myself to other fraternity/sorority professionals. I would feel anxiety as a graduate student when seeing friends' job announcement posts go up. I would spiral in my head, feeling I was not good enough. When I was working on a college campus, job announcement posts would also spike an unpleasant feeling in my stomach. I was not even applying for the job, and it still gave me negative feelings. There was no reason to feel this way. We can cheer on our friends on social media for their wins and not have to compare them to our own careers.
Post What Makes You Happy
Social media is a way to express yourself to your friends and audiences. Platforms like BeReal and Lapse want you to focus on friends, not followers. I see each person I am linked to on social media as a connection. Depending on the platform, these are friends, colleagues, or people who inspire and motivate me. If the people I follow do not fall into one of these categories, I give them an unfollow. I do not have to make a virtual connection with every person working in fraternity and sorority life… and that is okay. This is what I was conditioned to believe early on, but then it made all of my feeds only people from the fraternity/sorority world. I am much more than that. My interests are not only fraternity/sorority life.
Put Your Phone Down
I make it a goal each week to reduce unnecessary screen time. Working in social media and running 15 different accounts across various platforms makes it challenging to disconnect. Suggestion: Through self-reflection and therapy, I learned picking up my phone was an instinct motivated by nervousness and anxiety. In an effort to separate myself from my phone, I pick up a book, go on a walk, journal my thoughts, or challenge myself in a new way.
We are all trying our best, and we need to review how we are using our personal social media accounts. After all, they are a part of us. I work to not only post the positive things going on in my life because life is about the ups and downs. I want social media to be a place where I can find creativity and inspiration to keep going.
The landscape of our profession is changing, and it will continue to do just that. Social media is likely to remain part of our lives, and how we choose to engage with the platforms is up to each of us. Are we posting for ourselves or what we think we want people to see about us?
About the author:
Guillermo Flores is the digital media director at Sigma Phi Epsilon Fraternity. Previous to his work at SigEp, Guillermo was a campus-based professional working with fraternity/sorority communities. Guillermo launched the Fraternity Social Media Instagram account to empower members to tell their fraternity stories using social media. Since then, college students have invited Guillermo to their campuses and work with their communities. And yes, the title of this article is a play on Billie Eilish's "What Was I Made For?" from the Barbie movie soundtrack.